YUZU ゆず

PONZU SHOYU ゆずの里ぽん酢しょうゆ
A richly flavorful "ponzu shoyu"
that you can use at every meal.
A richly flavorful ponzu shoyu made
from ponzu from a yuzu fruit juice
base with authentically-brewed
Yamataka Shoyu and Tosa bonito.
It has many uses such as in hot pots
and can be used as a dressing as well,
so you can enjoy it year-round.
※In some cases part of the yuzu ingredients may
float to the top. Please shake well before using.



ROYAL ゆずの里ロイヤル
A concentrated Japanese style drink
with yuzu fruit juice as the main ingredient
along and honey and fruit sugar.
We recommend it to people of
all ages from small children
to the elderly as a health drink.
※When preparing the drink, please dilute 1 part
of the concentrated liquid into 4-5 parts water.



NOMUSU YUZU 毎日、飲む酢 ゆず
A yuzu and honey flavored
vinegar drink with no additives
for daily energy.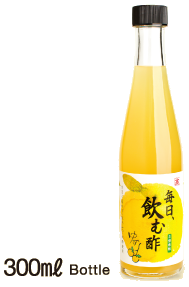 YUZU JELLY ゆずゼリー
A jelly drink with honey
and fruit sugar mixed
into yuzu.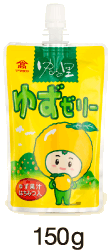 ---
Close
An introduction to YUZU
Yuzu is one of the largest citrus fruits in Japan in terms of both consumption and production.
With a strong acidity, it contains high amounts of vitamin C.
The juice of the yuzu is used in Japanese cooking, etc.,
as a seasoning to add flavor and acidity.
Not only the flesh of the fruit but also the peel is used as a spice/condiment,
such as being added to shichimi, a Japanese pepper spice.
At Takata Shoten, we don't use any flavorings or colorings so
that you can enjoy the true unadulterated taste and aroma of the yuzu.
In Japan there is a custom of bathing in a bathtub
with yuzu floating in it in the winter at the time of the harvest called "yuzu bath".
It is said that taking a "yuzu bath" will make one less likely to catch a cold.