shoyu しょうゆ

YAMATAKA SHOYU SERIES ヤマタカ本醸造しょうゆシリーズ
This is a soy sauce with a mild flavor,
lovingly cultivated while playing music to the fermenting mash.






HONBUSHI SHOYU ほんぶししょうゆ
With Yamataka's authentically-brewed
soy sauce as a base, we blend in Tosa bonito,
Hokkaido kelp, shiitake mushrooms
specially produced in Kihoku,
and other specially selected ingredients
with a mirin (sweet cooking rice wine)
flavor to give it a mild taste.



TSUYU めんつゆ
A shoyu and honey flavored
vinegar drink with no additives
for daily energy.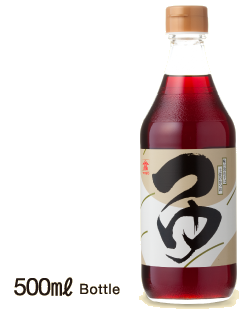 ---
Close
An introduction to SHOYU
Soy sauce is a liquid flavoring which is produced through
fermentation of soy beans, wheat, and salt using brewage techniques.
This flavoring is a fundamental part of Japanese food culture, used as a seasoning
for stewed or boiled dishes in Japanese cuisine as well as for tempura,
edomae sushi, soba noodles, etc.
It is currently used as an all-purpose flavoring all over the world.
At Takata Shoten, we continue to create traditional
deeply flavored soy sauce using production
methods and raw materials passed down over the ages.